Submitted by Jayalakshmi Jayanth on Tue, March 7, 2017
Social innovation and entrepreneurship hogs the limelight at a conclave The two-day "Changemaker Youth Conclave", which concluded here on Saturday highlighted how problem-solving youth can be game-changers by creatively and solving social problems through empathy-...
Submitted by Jayalakshmi Jayanth on Fri, January 13, 2017
February 6-10, 2017Ashoka South Asia announces the Induction of 14 new social entrepreneurs to its South Asia Fellowship. Along with 12 Fellows in India, Ashoka is going to induct one Fellow in Nepal and Sri Lanka each. Ashoka's new Fellows come from various geographies and...
Submitted by Jayalakshmi Jayanth on Thu, January 5, 2017
The United Nations Young Changemakers Conclave is a platform to engage with eminent leaders from the field of Business, Politics, Media, Education & Social Cause. The theme for 2017s dialogue explores the role of Business, Government and Social Entrepreneurs in...
Submitted by Prollins on Tue, July 12, 2016
With innumerable high-quality education conferences to attend throughout the year, one needs to be deliberate in selecting conferences and creating expected outcomes from each conference. When I was invited to speak about the big scalable projects I've initiated at...
Submitted by Prollins on Mon, June 6, 2016
Being the parent of a norm-pushing, boundary-crossing, free-spirited child who is on a mission to save the world-or at least the world as they see it -can often feel like a tricky adventure. Tag this with trying to figure out how to nurture their inner wildling in a way...
Submitted by Prollins on Wed, May 18, 2016
"Didi, didi, aap phirse kab aaoge ?" said Reena, her eyes giving out a magical sparkle. "Jab bhi aap bulaoge!" we said. Amidst Archimedes Principle and co-ordinate geometry, a leadership workshop came by the way of 9th grade girls of R. N Podar School. It was not a typical...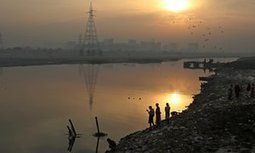 India wants to encourage more privately owned, small-scale hydropower projects to cut its climate emissions, but questions about environmental impacts remain
There is no ban on women worshippers at Mumbai's other popular dargahs, Makhdoom Ali Mahimi, at Mahim, though this shrine shares some trustees with the Haji Ali dargah
By Javed Abidi Indians have always been largely apathetic towards persons with disabilities. Our census started counting us only from 2001.